With a new look and enhanced functionality, I am pleased to announce Version 10 of my CW trainer is here:
Since it first became available back in 2002, my Morse trainer has been downloaded countless times. I used to request a QSL card as a download acknowledgement and the software has achieved DXCC Honor Roll in its right over the years.
As well as the QSL cards, I have had lots and lots of intesting conversations with different people about their learning methods and successes and failures. This has given me a lot of insight into how we learn Morse and it has become clear that Morse is a language just like French or German. This means that the language learning skills are just as applicable to Morse as they are to French or German, for example.
In 2018 I was invited to give a lecture at the RSGB Convention about techniques for learing Morse which was recorded by the RSGB and they have given me permission to reproduce it here. As well as giving useful tips on learning Morse, the video talks about the operation of the new version and which is, I am told, well worth watching.


Audio Books in Morse Code
One of the more effective ways of learning to copy conversational Morse in your head is not by listening to random words, but by listening to whole sentences. And what better way to do that than listening to an audio book in Morse Code?
Version 9 was able to convert text to Morse, but this version makes it even simpler. Note, that like many other options, this one only becomes available once you have learned all of the built in characters and any that you have defined yourself.
To get started, visit The Gutenberg Press , chose a book from their large selection and download it in 'Plain Text UTF-8' format.
Next open the downloaded text file in Notepad and remove any text which does not form part of the story, for example the index, and which you would not wish to listen to.
Now click on 'Record Text File' in the 'Files' menu of the Morse Trainer and a window should open as in the image below: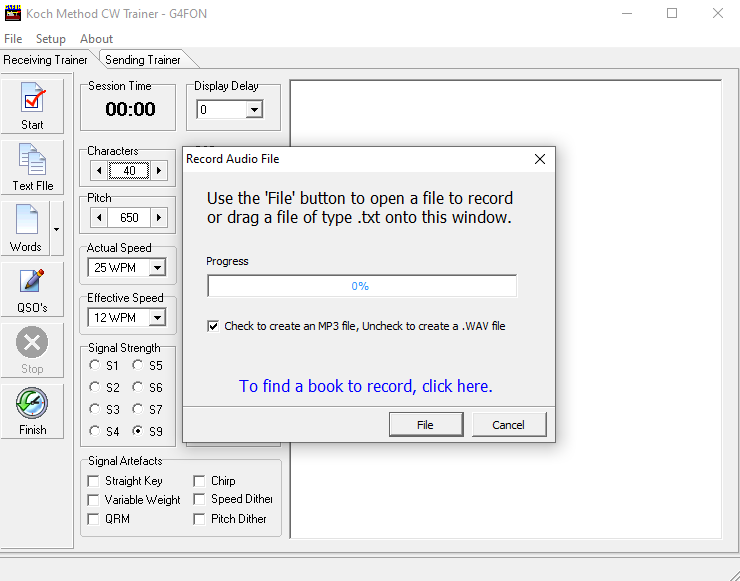 Finally either drag the text file of the book onto the popup window or use the File button and browse to it.
You should see the window turn red and the progress bar move steadily across the window as the Audio Book is created. You have the option to create an MP3 file for an MP3 file player or a WAV file if you want to burn the result onto a CD.
You should now have a Morse Audio version of your chosen book to listen to. It will be in the same folder as the original text file.
I have found and also had it confirmed to me that you should listen to the book for several hours as you go about your daily routine. You do not have to concentrate all the time on the Morse as your subconscious brain is working hard to learn what it hears.
Oh, and by the way, if you simply want to listen to a text file in Morse Code, drag it onto the main window and it will be sent for you with each word appearing in the output window after it is sent. Again, this only works after you have learned all of the built in characters and any that you may have defined.
Sending Trainer
One of the new features of Version 10 is the Sending Trainer which becomes available once you have learned the 40 built in Morse characters and any new ones you may have defined.
My philosophy in designing this addition to the software is firstly that words should be presented to you as closely as they would come into your head during a QSO and secondly that you should be using your radio's keyer for practicing as this replicates exactly how you would send Morse during a QSO.
To achieve the first goal, the software will speak words to you. That way you have to work out the spelling in your head - exactly as you would do on the air.
To achieve the second goal you will need to connect the sidetone from you radio to your PC's sound card input. Adjust the input level until you see approximately the same display as the screenshot above. There are two windows of interest, the oscilloscope display of the incoming signal and the FFT display showing the pitch of the sidetone.
Once you are all connected up, choose a practice speed, the number of attempts you want to make to send the word back and finally the words you want to practice and away you go.
The software will speak a word which you must then send back correctly to move on to the next word. As you finish each letter it will be echoed in the main window. If you make an error then the word will be spoken again and if your Morse does not match any of the characters you have learned then the dots and dashes will be displayed to help you.
Microsoft supplies a number of different voices with Window and you have an uption to select the voice that suits you best.
At any time you can ask for the word to be spoken again by sending a ? and to move on to the next random word, send a /.
You can also use the software to read the Morse that you send which will appear in the window. Note that the software is not designed to read Morse off-air!
---
Download the latest Version 10 release here!

---
Revision History
Version 10.3.1 released 16 March 2020
Fixed the Effective speed not being rememberd - thanks to Steve KK6VZE for reporting it.
Version 10.3.1 released 16 March 2020
Fixed shortcut error - thanks to Tony KE4MHP for reporting it.
Version 10.3.2 released 17 March 2020
Really fixed the Effective Speed error - thanks to David VK5PL for reporting it.
Also started using a new installer for the files, it may be worth uninstalling your current version before installing this version. No settings will be lost by uninstalling.
Version 10.3.3 released 21 March 2020
Added back the QSO selector which somehow got lost - thanks José EA5VK for reporting it.
Also updated the button hints to show that greyed out buttons will become active when all characters have been learned.
Version 10.3.4 released 22 March 2020>
Text files with accented characters were not play the accented characters correctly - thanks José EA5VK for reporting it. Note that you need to store the text file as ANSI and not UTF-8 for this feature to work correctly.
Version 10.3.5 released 23 March 2020
Tidied up text files with accented characters so that characters can be defined in either case - thanks again José EA5VK for reporting it. Note that the characters will display in the case that they were defined in and not in the case in the file.
Version 10.3.6 released 31 March 2020
Sending Trainer now respeaks the word every two seconds until you start sending - thanks to Paul KW1L for the suggestions.
Sending Trainer help reworded
Version 10.3.7 released 10 April 2020
Sending Trainer setup is now via the Setup menu item with the Sending Trainer window active. More voice configurations available now - thanks to Paul KW1L for the suggestions.
Fixed a bug where the displayed order of sent words was not correct if you invoked the Display Delay option - thanks to Dave VK5PL for spotting that one.
From this version onwards the Word and QSO files have moved to a folder below 'My Documents', if you have created any special files they will need moving to the new folder.
Version 10.3.8 released 13 April 2020
Changed the button logic for the Words and QSO buttons so that it is possible to browse for a file.
Fixed a bug where the Voice selector in the Sending setup grew each time the window was opened.
Version 10.3.9 released 15 April 2020
Added shortcuts to the Start, Stop, Words and QSO buttons - thanks to Dan KA4DAN for the suggestion.
Version 10.4.1 released 12 May 2020
Added an upper case option to the main text display popup menu - thanks to Rich N1ZSC for the suggestion.
Allowed Effective Speed to modify the length of the interword spaces when creating recorded files - thanks to Dan KG7DAB for the suggestion.
Version 10.4.2 released 14 May 2020
Noticed a coding error in the Text File to Morse converter.
Version 10.4.3 released 20 May 2020
Added an option to allow the QRM Generator to run a simulated contest as the QRM Source. Configurable in the Setup menu - thanks to the Long Island CW Club for the suggestion.
Version 10.4.4 released 9 June 2020
In the continuing to improve the Sending Trainer, you can now set the Pitch of the voice which speaks the words.
Version 10.4.5 released 20 June 2020
Added a new Phases button in addition to Words for both sending and receiving training - thanks to John G3WKL for the suggestion and Kurt AD0WE for the files.
About Box now checks to see if there are updates available and offers a link to download them.
Version 10.4.6 released 21 June 2020
Version 10.4.7 released 29 June 2020
Cleaned up the Phrase button code for sending and receiving.
Tab order and Alt key cleanup for blind users - thanks to Sam W2JDB for his support.
Version 10.4.8 released 8 July 2020
Fixed a couple of typos - thanks to Bill WA2FCN.
Changed the character learning order to bring it into line with other software - thanks to Rich K2UPS for the suggestion.
I am looking for user feedback about modifications and improvements - email me with yours!
---
Keep checking back for updates!
---